It's no Joke! Today is double the fun day! I'm giving away a
one year subscription

to P31 Woman AND you can still enter to win An Untroubled Heart! I'll announce ALL WINNERS on Monday! Be sure to check back!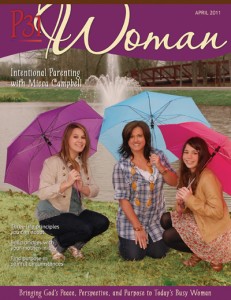 If you like practical, yet inspiring, information about being a woman, then you'll LOVE our magazine called, P31 Woman. In fact, my husband even reads it. He also dog-ears the articles he thinks I need to read in order to improve my womanhood.
Yes, I let him get away with it as long as I can give him some helpful advice as well.
We have a wonderful team of women who creatively work together each month to make P31 Woman the wonderful magazine that it is. Glynnis is our editor.   You probably know her. If you don't, you're missing out! Stop by her blog today. You'll be glad you did.
Then, there is Carol.  She works on the colors and layout. Carol is very creative. She not only works on the P31 Woman team, but she creates bio's and blogs for speakers. You'll want to check that out too!
April's issue feature's our Japanese exchange student, Hitomi, Peyton, my daughter, and myself. The article is about how parents can support their child's dream. Plus, I think you'll enjoy reading about our adventure with Hitomi. She has not only become a family member, but she has brought our family closer together. Hosting a student from another country has been one of the best decisions my husband and I have ever made for our family.  To read my article featured in the April issue, click here.
If you'd love to be the winner of a one year subscription to P31 Woman, leave a commit and then stop by on Monday for the winner!
Good-luck!