I have the privilege of introducing to you Lynn Cowell's new release, His Revolutionary Love, and a FREE leadership guide.  I'm so excited about this book! I believe it's what young women have been looking for and longing for. Now, their search is over!
Lynn has a heart for young girls and women alike to know the depths of God's love. She believes if a woman can grasp just how much she is loved and adored by her heavenly Father, it would forever change her life. I agree and look forward to giving His Revolutionary Love to my own daughter at her graduation this month. What better gift could I give her than the gift of confidence and security that comes through an on-going love relationship with God?
I've had the honor of sharing the stage with Lynn. She is an awesome communicator through both the spoken and written word. Here's an example of what you'll find in His Revolutionary Love.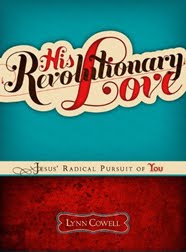 As she walked through the door I could see the pain in her eyes. I knew she was trying to be tough, but the dam broke and the flood of tears streamed. "The kids on the bus called me Shrek today".  Being 5'11" in sixth grade was brutal for my middle daughter, Mariah. The words that often taunted her began to reflect on her physically. Slouching made her feel shorter; while food became her comfort.
Middle school; if only we could all skip this cruel season.
We may not be able to make a way for our daughters to avoid these tough years, but we can be there to help them come out successful.
Looking for approval, affirmation and acceptance is normal. We all have the desire to be wanted. I really don't think it ever goes away. I mean, isn't that at least part of the reason as women we dye our hair, work out at the gym and try to hold back on our Oreo intake?
Would you believe God made us this way?
God created each one of us to crave approval, affirmation and acceptance. To many this would be described as love. Love from a guy, though, can never fill the love gap in our hearts. Guys just don't have what it takes to fill our need for love.
The Guy Detour is one I see lots of young women take and it comes up younger and younger on the path. When the fork in the road appears ahead, girls often take the path that promises happiness the quickest. Yet it usually delivers pain the fastest.
There is only One guy that offers unconditional, perfect love…
Only one.
Jesus .
He is the one guy who brings true confidence, security and truth.
The truth that:
When He looks at us, He is not disappointed in us.
He approves of us. He approves of you…and it has nothing to do with you! He simply finds complete joy in US!
 When He looks at us, He sees no flaw.
Read this out loud
"All beautiful you are, my darling; there is no flaw in you." Song of Solomon 4:7
 How did you feel when you read those words? Beautiful? No flaw? Powerful, aren't they? These are the words we can pour into the hearts of our daughters and the young women that surround us.
These truths transform lives. This truth that sets us free! When we see us the way He sees us we can pass that on to the next generation. We can be a part of a love revolution!
Now, just imagine if you had discovered this truth, that Jesus was crazy about you and could meet every love need you had, when you were 13, 16 or 19? How would your life have been different? What things would you have decided to do? What things would you have been empowered not to do? Fear and insecurity would have been replaced with love and confidence.
You can be the one to bring this truth to a young woman. Whether she is your daughter, granddaughter or the girl next door, Jesus wants to use you to bring the news of His unconditional love to that hurting girl.
Let Jesus use you to bring revolutionary love to change a girl's life for eternity!
 In "His Revolutionary Love," Lynn Cowell helps teen girls and their moms:
Create confidence that leads to a higher self-esteem by discovering Christ's radical, life-altering love.
Replace loneliness, rejection, and pain with acceptance, affirmation, and approval.
Make wise choices that lead to a fruitful future, rather than becoming a victim to emotionally-based decisions.
Shift faith in Jesus from just a parental influence to a personal, growing relationship.
Learn how to discern the voice and will of God.
Develop and stick to boundaries that protect the heart, mind, and body.
Communicate with guys and other girlfriends in a manner that's healthy and positive.
 Stop by Lynn's site at www.LynnCowell.com for a free leadership guide! This guide will help you to connect to the young women in your life with thought provoking questions and practical how-to tools!