Today's spotlight is on LuAnn Prater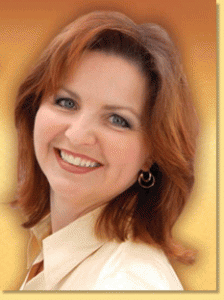 If you looked up the word "Encourager" in the dictionary, you'd find a picture of LuAnn–better known to our team as "Mama Lu." Why do we call her that? We call her Mama Lu because she cares for us "chicks!"I don't know what we do without her! Whenever there's a need on our team, "Mama Lu" is the first to encourage and the first to pray. And girl, talk about your prayer warrior… she can pray you straight through to the throne room of grace. Full of wisdom and gifted in communicating the love of God, it's no surprise that God entrusted her with her own radio show, Encouragement Café.  Pour yourself a cup of coffee, click on the link and enjoy all this ministry has to offer you. You'll be glad you did. Better yet, you'll be glad you got to know "Mama Lu."
 How did you know for certain you were called to write/speak?
 It is a gift that God gave me early in life, but I never used it for His glory until I became a team member of Proverbs 31.  I wrote my first short story in 4th grade and the teacher published it in a book.  Unfortunately, my parents didn't pursue getting a copy.  Believe it or not, I was extremely shy as a child.  Stop laughing!  In high school I took a class that changed my life.  As a matter of fact, I think it should be required.  It was a speech class.  I had the most amazing teacher who was upbeat and energetic.  He praised everyone for trying and didn't allow anyone to snicker or ridicule one another.  It would make a great movie because at the beginning of the year we were all lacking confidence but by the end, every student could stand comfortably in front of the room and deliver a speech, followed by cheers from their peers.  I used this gift in marketing and advertising and became a corporate trainer for a major company and a spokesperson for the American Cancer Society, but never knew it was all just training ground for what God had planned.
 2. How did you become a part of a National ministry like Proverbs 31?
 Lysa TerKeurst spoke at our church on a Saturday afternoon and I remember thinking, "What in the world am I doing here?  I have a million things on my to-do list this weekend!" Yet there was a compelling call on my heart that couldn't keep me away.  Afterwards Lysa and I chatted at her resource table and she asked if I and two other girls would be interested in coming to the very first She Speaks.  She said that she wanted to help equip women who felt called to write or speak for Christ because she remembered feeling so alone when God first called her.  Something inside me clicked.  That small voice whispered, "This is what I've been preparing you to do. Go."  Three of us attended at a small hotel, in a small conference room with a small number of women in attendance.  I remember the night before I gave my talk I was so nervous and sick.  This was different.  This was a call from God.  This would require His ability.  We prayed, He showed up and I was asked to become a part of the team.
 3. What's one thing you would suggest to our friend's that would help them get started.
 Whatever your struggle has been in life, God will use, if you let Him.  Often I see girls who attend She Speaks with a sermon prepared.  They focus their words on pointing out what others 'should' do and neglect to tell what Christ has done in them.  There is nothing more compelling than a testimony of God's amazing grace in the life of a formerly struggling sister!  He has called us to speak of His transforming power in our own lives. Don't be the judge, the jury, the prosecuting attorney or the defense lawyer.  Be a witness.
 4. Tell us something about yourself that we don't know? (a favorite hobby, experience, a quirk)
 I love to drive.  We jokingly say that our family must have the transportation gene. You know in the beginning God created family lines to be farmers, hunters, tent makers, etc. well we think our line probably drove the chariots.  Example: At the last minute I was asked to fill in at a trade show in Chicago (we live in NC) because a coworker's father had just passed.  I threw my things together and drove 15 hours to get there on time.  For fun my husband and I will just drive through the mountains or to the beach.
 Thanks, Mama Lu!