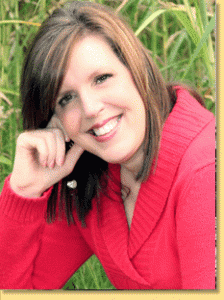 Today's Spotlight is on T. Suzanne Eller
Whether she is writing, teaching the bible, encouraging a mom or engaging in conversation over lunch, Suzie's warm and sweet spirit shines through. Gentle by nature, she the kind of person that couldn't harm a fly. You'd trust Suzie with your kids, bank account and even your husband! That's why I was shocked when I discovered she was a savvy "tech" girl who is "in the know" about social media such as Facebook and Twitter. In fact, she taught our team how to "tweet." Yes, Suzie is a rare combination of wonderful. To learn more about Suzie, visit her blog.
Suzie, how did you know for certain you were called to write/speak?
If you were to ask me what I do, my answer wouldn't be that I am a writer or a speaker, but simply that I have a desire to communicate the message that Jesus is real and His love transforms lives. That message has burned on my heart since I was a teen. I was raised in a chaotic home filled with broken people, and though nothing changed at home, when I discovered his love, something began to change in me. I love watching women discover that truth for themselves, no matter where they are in their faith walk.
How did you become a part of a National ministry like Proverbs 31?
I met Lysa TerKeurst and Marybeth Whalen at a parenting conference where we were all ministering to moms. I loved the heart of these two women. Lysa invited me to She Speaks to learn more about Proverbs 31 Ministries. After a couple of years of attending She Speaks and serving in different capacities, I came on as a speaker and writer for the team. I love, love the heart of this ministry.
What's one thing you would suggest to our friends that would help them get started.
To begin right where they are. My heart is to teach the Bible, and to take women in a new direction in their faith, family, and feelings. I taught for years in my home church, and continued to do so until two years ago. Teaching in small groups is not a small ministry. It's training. It's discipline. In fact, this month I had the opportunity to sit in for my regular Sunday school teacher, and I had almost forgotten how much I loved it! So, look around you. Whatever it is that God has placed on your heart, minister right where you are. Also, listen to other speakers (on YouTube and GodTube, as well as in person). Listen for areas where speakers can grow. Listen for strengths. Don't compare yourself, but listen and grow and stretch. Iron truly does sharpen iron, and we have a lot to teach each other.
Tell us something about yourself that we don't know? (a favorite hobby, experience, a quirk)
 I'm a goofy girl at home. It's something that my family and close friends find endearing (or at least that is what they say), but I keep the goofiness in check in public.
Thanks for sharing your wisdom with us, Suzie!