Spotlight on Tracie Miles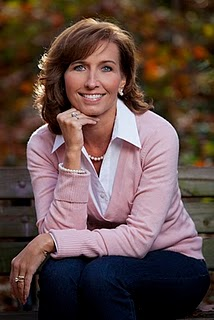 When I first met Tracie, I was drawn to her gentle spirit. She has a very calming presence. Since I tend to be "all over the place," I like the confident strength that she exudes. I'm not talking about the kind of "pull yourself up by the boot straps" kind of strength. No. It's obvious that Tracie's strength, faith, and assurance comes from her personal relationship with Jesus. That's not all! You'll never hear it from Tracie, but she is creative and gifted in her writing and speaking. She's a real marketing goo-rue. And she's also a talented tennis player (which I'm jealous of) and a singer too! I'm blessed to know and serve along side of my dear friend, Tracie.
1.)    Tracie, how did you know for certain you were called to write/speak? 
About eleven years ago, Lysa Terkeurst came to our church for a women's event we were having. She was the speaker sharing her story, and it was a powerful worship service, and before that day, I was not familiar with Proverbs 31 Ministries at all.   I experienced the presence of God in my spirit like never before, and as I was fervently praying after the service, I heard God's voice in my head as loud as if it were on a loud speaker. The words I remember Him saying simply said "go and share". I didn't quite know what that meant at the time, but I clearly knew I had heard God's voice – and honestly, I didn't like what I heard! So I struggled with the thought of sharing my testimony and becoming a speaker for years, and walked in disobedience out of fear and my own insecurities.  Three years later, I felt called to get involved with leading women's ministry at my church. It was through that experience that God equipped me in many ways to go out of my comfort zone and consider being a speaker, and that I built my faith up enough to trust in His plan, and His will for me.  A couple years later in 2005,  I hesitantly signed up for She Speaks, and attended,  and there God confirmed my calling with great clarity over the weekend. I left the conference with a transformed heart, and a renewed passion to serve God in whatever He called me to do. I resigned from my corporate position the day after I returned home from She Speaks, and began pouring my efforts into becoming a speaker.  
 2.)    How did you become a part of a National ministry like Proverbs 31?  
 My sweet friend Wendy Pope and I both go to the same church in Matthews, NC. She was working with Proverbs 31 and was the person who encouraged me to go to She Speaks, since we were already serving in women's ministry together at church. After the conference, I was so on fire for Proverbs 31 because of the difference it had made in my spiritual life, and how God had used the conference to change my heart and really discover God for who He really was, that I got involved with  volunteering with Proverbs 31 in a few different areas. After speaking on my own for about a year, and volunteering with P31,  I applied to the Proverbs 31 speaker team. It was a lengthy process, but I have never been more blessed than the day I found out I was accepted onto the team, and it has been an amazing faith adventure ever since!
 3.)    What's one thing you would suggest to our friend's that would help them get started. 
To pray a lot for clarity about what God may be calling them to do, and for Him to open doors and bring people into their paths to confirm that calling. Then focus on setting themselves up as a professional speaker through developing their speaker topics, references, professional looking bios, websites or blogs, social media outlets, etc. There are many marketing methods that can be used to begin marketing oneself as a speaker and getting their name out, so each woman should just research the different opportunities out there and determine which one they feel would work best for them. Then, pray some more! Over the years, I also have come to realize how mad it makes the enemy for us to step out in faith and follow God wholeheartedly, so he will put a lot of stumbling blocks in the way. We need to be strong in our faith, trusting God and believing in His protection, but also be prepared for the spiritual battle that we may come up against.  It's easy to get caught up in trying to get our ministry off the ground, and forget the importance of daily prayer and Bible study to keep us grounded in our faith.
 4.)    Tell us something about yourself that we don't know? (a favorite hobby, experience, a quirk)
My favorite destination is the beach  – I guess one could say we are a family of Carolina beach bums in the summer. J My favorite hobby, aside from spending time with my husband and family, is playing tennis. I play on three leagues in my city year round and really enjoy it. I just started about five years ago, and I have made so many great friends, and it helps keep me in shape!  
Visit Tracie at http://traciemiles.blogspot.com/p/about-me.html
 Thanks, Tracie. You Rock!