Welcome, Friends!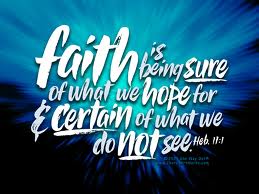 When circumstances appear to take an unexpected turn, our faith can be shaken.
Like I described in today's Devotion, when tragedy strikes doubt and anger can overwhelm us. You wonder how you'll ever endure the disaster unfolding before you.
However, adversity should never be the end of our faith. It should be the beginning. I've discovered it takes a strong faith to endure life's toughest sufferings. Faith in God that He sees you and your circumstances is the hope that keeps us afloat.
But what should we do when our uncontrollable situation has rocked our faith? How do you begin to rebuild your faith?
1. Choose to Trust God: God is faithful to his promises no matter our situation. He desires the best for your life and mine. At times, what we think is the best and what He knows is the best may be conflicting. As I always say, God sees the bigger picture, and He can be trusted.
2. Don't Listen to the Enemy: Satan uses our hardships to by infusing our mind with doubt. Doubt is what leads us to question our faith. When we refuse to look at our circumstances through our limitations, God gives us a sense of peace and rest.
3. Meditate on His promises. Searching the Bible for God's promises is one way we can quiet the wavering of our faith. God's promises reassure us that He is in control. That He keeps His word and has promised to work all things out for our good.
Here are a few verses that I turned to when my faith began to falter. In them I hope you find strength and comfort as I did.
"The Lord is good, a refuge in times of trouble. He cares for those who trust in him" (Nahum 1:7).
"We are hard pressed on every side, but not crushed; perplexed, but not in despair; persecuted, but not abandoned; struck down, but not destroyed" (2 Cor 4:8,9).
"Though I walk in the midst of trouble, you preserve my life. You stretch out your hand against the anger of my foes;
with your right hand you save me" (Ps 138:7).
"The righteous person may have many troubles, but the Lord delivers him from them all" (Ps 34:19).
"Let us hold unswervingly to the hope we profess, for he who promised is faithful" (Hebrews 10:23).
"God is our refuge and strength, a very present help in trouble" (Ps 46:1).
"Where can I go from your Spirit? Where can I flee from your presence? If I go up to the heavens, you are there, if I make my bed in the depths, you are there. If I rise on the wings of the dawn, if I settle on the far side of the sea, even there your hand will guide me, your right hand will hold me fast" (Proverbs 139:7-10).
I'm sure you have verses of your own that have sustained you during times of sufferings. Feel free to share them with us!