Do you know God? I mean really know God. Most of the time you and I think about God in 4 dimensional terms because that's all we know. Therefore, we put our limitations on God. We tend to think of Him as being a little bit bigger, somewhat wiser and a tad bit stronger than we are. What we end up with is super-sized version of ourselves. The problem with this perception is it makes God too small.
God is more than a super-hero. He's more than a Santa figure or a magic Genie. He's so much more! It's only by Knowing God By Name that you can have a trusting, loving, intimate relationship with.
Think about it. How do you develop a close relationship with your spouse or friend? You have to get to know them. How did you come to trust them, seek their counsel or follow their guidance? Agian, it's because you took time to know them inside and out. It's hard to trust or be close with someone you don't know.
God already knows you. Isn't it time you got to know Him? I hope you agree because knowing God will change your life even if you've been worshiping Him for years.
Today, I'm excited about giving away a copy of, Knowing God By Name, written by three of my favorite friends—Gwen Smith, Sharon Jaynes and Mary Southerland. In their book, they uncover the supreme attributes of God that will change your heart, your relationship and your life.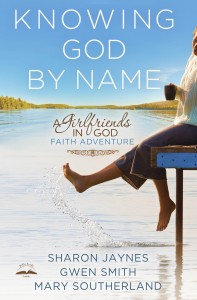 Knowing God by Name will help you:
Understand more about who God is and how to relate to Him. At times we all feel distant and confused about God. The 40 names and attributes featured in this book shed a fresh light on who God is and lead us to His heart in intimate ways.
Apply Scriptural truths to your unique circumstances. We can all get lost in our situations instead of God's strength. As you come to know God by name, you'll draw closer to God and learn to trust Him more fully.
Connect with other women. C'mon, now! That's what I'm talking about! We need each other so much! Responsive and Biblical questions at the end of each week are perfect for further prayer and dialogue between both you and God – and between you and your girlfriends, prayer partners or a small group.
Grow closer to the One who knows you by name. We all long to be known and loved, but what if our response to God's names and attributes were the key to experiencing our deepest longings
To enter to win, leave this statement in the comment section. "I want to know God by Name." Or, if you are eager to get your copy now – then click here to order.
God longs for you to know Him intimately. Here's your chance!
Good Luck!!