Who is the God of the Bible?
That's a good question. God is so large, it's hard for us to wrap our minds around his nature. Below is a list of facts about God's character and heart. As you read, pause on the attribute that speaks most to your need today. Call out to God by that name. Then rest in the truth of who God is.
God is eternal. 
(Deuteronomy 33:27; Jeremiah 10:10; Psalm 90:2)
God is infinite. 
(1 Kings 8:22-27; Jeremiah 23:24; Psalm 102:25-27; Revelation 22:13)
God is self-sufficient and self-existent. 
(Exodus 3:13-14; Psalm 50:10-12; Colossians 1:16)
God is omnipresent (present everywhere). 
(Psalm 139:7-12)
God is omnipotent (all powerful). 
(Genesis 18:14; Luke 18:27; Revelation 19:6)
God is omniscient (all knowing). 
(Psalm 139:2-6; Isaiah 40:13-14)
God is unchanging or immutable. 
(Psalm 102:25-27; Hebrews 1:10-12; 13:8)
God is sovereign. 
(2 Samuel 7:22; Isaiah 46:9-11)
God is wise. 
(Proverbs 3:19; Romans 16:26-27; 1 Timothy 1:17)
God is holy. 
(Leviticus 19:2; 1 Peter 1:15)
God is righteous and just. 
(Deuteronomy 32:4; Psalm 11:7; Psalm 119:137)
God is faithful. 
(Deuteronomy 7:9; Psalm 89:1-8)
God is true and truth. 
(Psalm 31:5; John 14:6; John 17:3; Titus 1:1-2)
God is good. 
(Psalm 25:8; Psalm 34:8; Mark 10:18)
God is merciful. 
(Deuteronomy 4:31; Psalm 103:8-17; Daniel 9:9; Hebrews 2:17)
God is gracious. 
(Exodus 34:6; Psalm 103:8; 1 Peter 5:10)
God is love. 
(John 3:16; Romans 5:8; 1 John 4:8)
God is spirit. 
(John 4:24)
God is light. 
(James 1:17; 1 John 1:5)
God is triune or trinity. 
(Matthew 28:19; 2 Corinthians 13:14)
~Mary Fairchild
__________________________________________________________
Today, I'm giving away an all-time best seller—The Bible. This isn't just any bible.
As wives, mothers, friends and daughters, we need to know we're not alone. We long for someone who understands, someone to help us find perspective. A friend who gets us.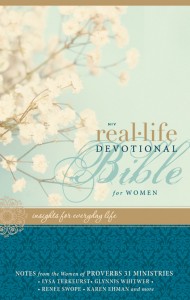 You'll find that friend on the pages of the NIV Real-Life Devotional Bible for Women. Filled with insightful daily devotions written by Lysa TerKeurst and the women at Proverbs 31 Ministries, the devotions in this Bible will meet you right where you are, in the good and in the hard days, in the carpool line or doctor's office. Using God's truths as foundation, this Bible will help you maintain a peace-filled place of balance in spite of your life's hectic pace.
Leave a comment and enter to win: Real-Life Devotional Bible for Women! (Will announce winner on Monday!)