People ask me all the time if I'm afraid to fly. My standard answer is, "No." I realize that flying several times a year increases my risk of engine failure, plane crash and catching someone's cold. And yes, these things enter my mind but I don't allow them to consume me.
It's my perspective that gives me the confidence to fly. Besides, my feelings really don't have much to do with it. How I feel about flying doesn't determine the planes ability to get me from on destination to the other. My feelings only determine whether I enjoy the flight or despise it.
One the other hand, I am a bit superstitious. Before stepping onto the plane, I touch the side of the metal ship and say a prayer similar to this one.
"It's all yours, Lord. I ask that you put your trustworthy hand under this plane and rise it up and set it down according to your will."
The Christian is called to live by faith not by feelings. Too often I trust in my own ability instead of God's ability. I do this because I "feel" I know best. This effort usually leaves me discouraged, frustrated and stuck! Sound familiar?
When I put my trust in God, and take Him at His Word the pressure eases, fear dissolves, and peace fills my heart.
There's some sort of supernatural connection that occurs when you believe—really believe. God becomes so real, so close, and so intimate. As I look to Him, I experience His care and provision. The more I do this, the more I trust, and the closer to God I grow.
It's similar to when I was a child. I didn't worry about bills, or if the car needed tires. I didn't give a thought to whether there would be dinner or not. I completely trusted in my parents.
Worrying about such things would have affected the joy of my childhood unnecessarily. My concern wouldn't have changed my parents desire or willingness to care for me.
Likewise, the Christian life isn't dependent on our feelings either. Our feelings only affect our joy and peace. It never affects God's sovereign plan for my life or His ability to care for me. So let's take Peter's advice and "cast our cares on God, who cares for you." (1 Peter 5:7).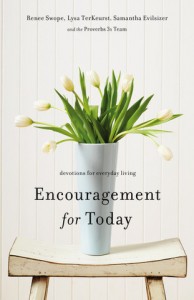 I hope this post encouraged you. Because you and I live in a defective world, we need a dose of encouragement often. That's why today I'm giving away a copy of "Encouragement for Today." Leave a comment to enter to win!
Good luck!!