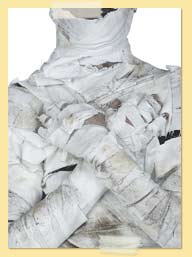 I thought when I became a Christian all my sinful habits could instantly go away.
That's not been the case.
I can easily become upset with my children—lose it and result to yelling. This isn't the kind of mom I want to be.
When it comes to food, I have no self-control. I think sometimes I love carbs more than I love Jesus. The worse part is standing in my closet looking for something to wear that covers a multitude of sin.
Still, I try. I do my best to break free from the haunting habits. I even give good effort in doing all the right things a Christian should do.
Yet, no matter what I do—attend church regularly, teach, pray or study the Word doing all the "right things" didn't add up to the life promised me in the bible.
Do you still struggle with sinful habits even though you have new life in Christ?
I believe the story of Lazarus found in John 11 holds the answer for us.
Lazarus' death and resurrection is a picture of our new life in Christ. It also shows us that when we receive Christ as Savior its only the beginning. I may have new life, but not everything inside of me is new, yet. Sinful habits must be dealt with.
Becoming like Christ is a process. And Lazarus' story makes sense of it all.
Lazarus had died and been buried in grave clothes for three days before Christ appeared at his grave. Calling in a loud voice Jesus commanded, "Lazarus, come forth!" Lazarus was instantly brought back to life but was still bound by his grave clothes. This is a symbol of our dead life before Christ calls us to new life in Him.
Once Christ gave Lazarus new life, he still needed to be liberated–set loose from his grave clothes.
Likewise, so do we.
Lazarus' grave clothes are symbolic to our sinful habits we developed before we became a Christian. Until we deal with our own grave clothes, our new life will be hindered.
Bound hands—hindered service
Bound feet—hindered walk
Face cloth—hindered vision
Lazarus resurrection was only the beginning of his new life. Once he was released from his grave clothes, he became an effected witness to the power of Christ to save and transform lives.
I pray today that you will take some time and consider what habit is hindering your walk—your relationship with Christ. Then confess it and set your mind on the things above.
Paul instructs us this way. "So I say, walk by the Spirit, and you will not gratify the desires of the