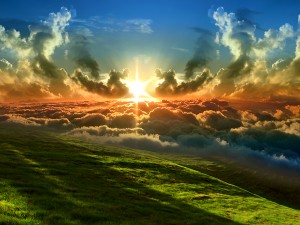 Have you ever wondered if your loved one can look down from heaven and see what's going on here on earth? I have. In fact, sometimes I ask God to give my loved one a message. You know, something like we love and miss you.
I don't really know if it works that way but it brings me comfort.
What I really want to know is can our loved ones see us as well as the good and bad activity on earth?
"While heaven is a place of joy and peace, we can be certain that our loved ones in heaven are not disturbed or troubled about what's happening on earth. What the bible isn't clear about is whether or not those in heaven can see us, although it gives hints that they do.
The book of Hebrew tells about great men and women of faith who are in heaven. Then it goes on to state, "Therefore, since we are surrounded by such a great cloud of witnesses … let us run with perseverance the race marked out for us" (Hebrews 12:1).
Like spectators in an arena, the bible seems to suggest, they are watching and cheering us on as we seek to follow Christ. That's because the main theme of heaven is Christ. Those in heaven now see everything from God's point of view instead of an early perspective.
Heaven is a mystery, but one thing is for sure. Our hope of heaven is based on Jesus Christ and what He did for us through His death and resurrection."
If you have a loved one in heaven, you can be assured they are happy and secure. What about you? Do you know Christ? If so, you'll one day be reunited with those who have gone before you. What a day that will be. However, compared to Jesus, seeing our loved ones is secondary. Seeing Jesus face to face in all His glory will be our greatest delight!
Because I know how difficult loss is, I'm giving away a free copy of my book, An Untroubled Heart. If you need encouragement or know someone who does, leave a commitment and enter to win!
Looking forward to eternity!!
words by Billy Graham