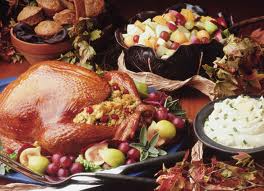 I LOVE Thanksgiving!! It's my favorite Holiday because it's simply about Family, Fellowship and Thankfullness. It's also about turkey and mom's famous stuffing! (My mouth is watering just thinking about it.) Thanksgiving is a day when we pause to express our thankfulness for one another and for God's many blessings.
This tradition started with the pligrams and Indians has been passed down from generation to generation. But who and when did Thanksgiving become a day of public Thanksgiving and prayer?
The year was 1779 when our first President, George Washington, called the states to set aside a day to acknowledge our most gracious Lord for His abundant blessings.
"Whereas, it is the duty of all nations to acknowledge the providence of Almighty God, to obey His will, to be grateful for His benefits, and humbly to implore His protection and favor; Whereas, both the houses of Congress have, by their joint committee, requested me
"to recommend to the people of the United States a day of public thanksgiving and prayer, to be observed by acknowledging with grateful hearts the many and signal favors of Almighty God, especially by affording them an opportunity peaceably to establish a form of government for their safety and happiness!"
Now therefore, I do recommend next, to be devoted by the people of the states to the service of that great and glorious being, who is the beneficent Author of all the good that was, that is, or that will be, that we may then all unite in rendering unto Him our sincere and humble thanks for His kind care and protection of the people of this country."
"Every good and perfect gift is from above, coming down from the Father of the heavenly lights, who does not change like shifting shadows" (James 1:17).