The Winner of An Untroubled Heart is…. Lynn Odnovyun!! Congratulations, Lynn! I pray God speaks to you and heals your heart through the pages of this book.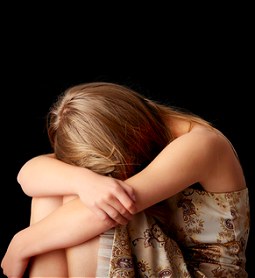 As I read your stories of loss, my heart grieved. I can relate to your pain, heartache, depression, anger and sadness. I understand the "Why" questions too.
When you lose someone you care deeply for the pain is unbearable at times. You're filled with a mixed bag of emotions from sadness to anger. You wonder when—if ever—the pain, loneliness and questions will ever let up.
I want to assure you that while you'll never stop loving that person nor will you forget them, the pain does heal. All that you're feeling is a natural response toward significant loss. While there is no right or wrong way to grieve, there are healthy ways to grieve that will help you eventually move on.
An important part of the healing process is allowing yourself to experience and accept all feelings that accompany the stages of grief:
1.)  Denial or Numbness
This stage serves to protect you from experiencing the intensity of the loss. As you slowly acknowledge the impact of the loss, denial and disbelief will diminish.
I recall feeling numb during and after the funeral.
2.)   Bargaining
This stage may involve persistent thoughts about what could have been done to prevent the loss. You can become preoccupied about ways that things could have been better. If this stage is not properly resolved, intense feelings of remorse or guilt may interfere with the healing process.
During this stage, I had nightmares. Each night I dreamt Porter died in a different way. No matter the situation, I couldn't save him.
3.)Anger
This reaction usually occurs when someone feels helpless and powerless. Anger can stem from a feeling of abandonment or you may be angry with God. I was.
It's easy to be angry with God when He doesn't act like you expect Him to. I personally shook my fist at God. You can read my story by clicking the tab at the top of this page marked, "Micca's Story."
When I expressed my anger, God didn't respond the way I expected. He showed up to comfort me. I didn't see Him or touch Him but His presence was overwhelming. Peace surrounded me. Being honest with God about our feelings helps us heal.
4.)  Acceptance
In time, you will be able to come to terms with various feelings and accept the fact that the loss has occurred. Healing can now begin.
Dear heavenly Father, Thank you for your great love you have for each of us. I pray the height and depth of your love will be evident to those who are grieving over their loved one. Blanket them with peace. Lord, you promise to draw near to the broken-hearted. Make your abiding Presence known. Ease their pain and give them new strength for each day. Thank you for the gift of memories—not to sadden us—but to celebrate a life we were privileged to know. Thank you for the day to come when we will be caught up together with you in the sky. What a reunion that will be!