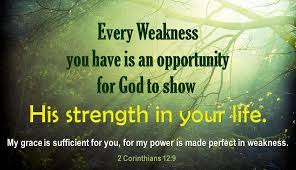 Our greatest strength may be to give up and trust God. I can't tell you how many times I've learned this truth over and over.
For example, being a single parent when my son was young was difficult on many levels. Most of the time I felt tired and overwhelmed by all my responsibilities. There was no one to share concerns with—no one to worry with, plan with, or give a bath to my son when I needed a break.
To make matters worse, we lived in an upstairs duplex. When my son was a baby, it was a challenge getting him, his diaper bag and the groceries upstairs at the same time. I didn't want to leave him in the house or the car alone so I piled on the items. Once I climbed to the top of the stairs, my next challenge was unlocking the door with my arms filled to overflowing.
Most days I felt like the whole world rested on my shoulders. And that was scary for me. While I tried to carry the load, I was too weak. It was crushing me, and yet, I continued to fight. I tried harder. I had to. I had to be strong. If I put down the load, who was going to pick it up?
One day, while searching my bible for encouragement, I came across verse: "My grace is sufficient for you, for My strength is made perfect in weakness." Hope awoke in my heart when I realized my situation was an avenue to experience God's strength. I didn't have to put on a brave face, or pretend to be made of steel. I simply needed to surrender my weaknesses to God in exchange for His strength.
God didn't expect me to parent alone, but gave me His strength in my weaknesses. He promised, "that the power of Christ may rest upon me" (2 Corinthians 12:9). That promise is yours, too.
At that time, I didn't know I could look a verse up in original Greek to find a deeper meaning as I do today. So, I looked it up. The word "rest" literally means "a tent or covering." Christ's power over my circumstances and in my weaknesses is a shelter in which to rest, take refuge from the storms, and is a protective covering.
Those words came alive in my heart! That's just what I had experienced. God's grace—his strength both then and now is more than enough when I am weak.
I recall praying to God about my situation asking for help. I don't remember my circumstances changing right away. But I had a renewed sense of God's presence and power in my life, and no longer felt alone.
Through the assistance of others, I began to see God's activity in the life of my son and me. He had always been there offering help. I just needed to swallow my pride and receive it. When I let my friend cut my grass and the teenager next-door play with my son so I could do household chores, I felt equipped to press on with all the other challenges of daily life.
In facing our struggles and fears, it's vital that we yield completely to God. When we do, God can use our burdens as an avenue for His power and grace.
Are you tired and worn from constant worry?
If so, then you're in a perfect place to surrender you care to Him and experience His strength in your weakness.