I'll be honest. There are some things about my husband that really annoys me. For example, my husband is so tight with money he squeaks when he walks. That's why I call him, "Squeaky." He's also a talker. Once we were at the theater and I excused myself to go to the Ladies room. When I returned, he had invited the entire row to our house for dinner. That's not all. We have different views on cleaning, driving, parenting, and well, just about everything.
Sometimes I want to scream because of our differences. Others times I've wondered, "Did I marry Mr. Right or Mr. Wrong?"
I wonder if you're shaking your head in agreement because you've noticed the differences between you and your spouse as well.
Over the next few post, I'll cover the four commitments of marriage found in scripture. Believe it or not but there is a blue print to marriage designed by God. Marriage is His idea. Therefore, by following God's instructions we can't miss.
Commitment One: Receive Your Spouse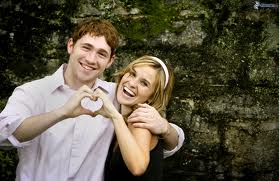 They say, "opposites attract." I believe that's true, but does this combination make for a good marriage? According to the wisdom of God, it does.
In the second chapter of Genesis we pick up on the creation of man. "Then the LORD God said, "it is not good for man to be alone; I shall make him a helper suitable for him" (2:18).  The key word to focus on is "suitable." No other living creature was suitable for Adam. Therefore, God fashioned a woman from the rib he took for Adam, and brought her to him. That was a good day for Adam! Can you imagine his response when he saw her? "That's what I'm talkin' about, God! You nailed it!"
This truth was eye opening for me. God made for Adam exactly what he needed. The same is true for me. God gave me a spouse who, by his divine design, is suitable for me. To think other wise is to disagree with God's provision for me.
Let's face it. I've got gaps. He's got gaps. Together we fill the gaps. Those things that aggravate me now once attracted me to my spouse. For example, I was drawn to the outgoing personality of my spouse because I was painfully shy. I never could keep my finances in order, but my spouse is great at it. He may be "squeaky" but I now feel safe instead of stressed. You could go as far to say through our differences we complete one another. His strengths make me stronger and visa versa.
So, how do I deal with those differences when they annoy me? I remember that my spouse is gift from God. He is God's perfect provision for me. I must receive him as a gift by not focusing on his faults (or what irritate me) but the fact that his differences are filling in what I lack. When I start to become irritated, it's not because my husband is doing anything on purpose. He's simply being who God made him to be—a suitable partner for me. His differences are to better me as a person and us as a couple.
To get to this point in my marriage, I had to remind myself each and every day to receive my husband as Adam received Eve–as a gift. I must unconditionally accept his good habits and his bad habits. I must look beyond him to the God who knows what He is doing–and trust He knows best.
Receiving your mate is more than reciting it on your wedding day. It requires an attitude of continual acceptance throughout your marriage.
Application: You complete each other through your unique differences and weakness. In what ways have your differences completed each other? Make a list.