When you hear of someone that's between a rock and a hard place, you automatically think of something bad. But if that rock is Christ the Rock, it's a whole different perspective.
To understand what I mean, you'll need to pause here and read my devotion today, Stuck Between A Rock And A Hard Place. ____________________________________________________
Are you back? Good.
Now, the next time you find yourself "between a rock and a hard place," I want you to transform that experience from being stuck between a rock to resting on the Rock of Ages. To change your perspective, you need to know that rocks  provide a good picture of God's character.
First, if you've ever leaned your full weight against a large boulder, you found that it was immovable and fully capable of supporting you. Rocks speak of stability just as our God is stable. He cannot be moved by any circumstance.
Is your life lacking stability? Do you need Christ the Rock to lean against?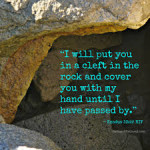 God is also our refuge. Like Moses, we can hide in the cleft of the Rock. Do you need a hiding place where you can hide and find rest?
He is unchangeable. The Rock Himself testifies, "I, the LORD, do not change." Are you afraid of change? Run to the Rock of your Salvation, the One Who remains the same yesterday, today and forever."
I don't know what you're facing today. Maybe your circumstances are crumbling beneath you. To Whom do you run? Where do you run when your emotions, your circumstances, your trials, your adversaries appear overwhelming and your outlook seems hopeless?
Run to the Rock, "of Christ Jesus, our Hope, the Rock Who is stable, secure, the source of inner strength, unchanging, immoveable and always reliable. Run to Christ, your personal Rock of Salvation.
I'd love to pray for you today that you'd find rest in the cleft of the rock.