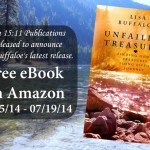 What woman doesn't like something for free! Today, I have a free offer for you. My dear friend, Lisa Buffalo, has a new book out entitled, Unfailing Treasures. I'm so excited about it asked Lisa if we could have a sneak peek and she did better than that!
"As my first-fruit offerings to the Lord," said Lisa, "I'm giving away free download July 15th through the 19th on Amazon. Please pick up a copy and share with your friends."  http://amzn.to/1kVPUrV
Don't you love her heart! There's more. Below Lisa gives us a taste of what you'll find in her book.
~ Beyond The Vortex ~
Life can be a twirling vortex. The to-do list already has too many things to do and the list grows as unexpected expectations are added.
So how does one do, more than one can do? By keeping the focus on The One who can do all.
As an ice-skater keeps their focal-point on one thing as they twirl on the ice, we can focus on God as life spins around us.
Keep the focus beyond the vortex; stay safe in the eye of the storm with your eyes on The One who calms all storms.
Mining for Treasure
Where is the storm in your life?
Are you focused on your difficulty, or focused on The One who can calm your storm?
"Jesus stood up and gave a command to the wind and the water. He said, 'Quiet! Be still!' Then the wind stopped, and the lake became calm." ~ Mark 4:39 (ERV)
Download you copy today http://amzn.to/1kVPUrV  And be sure and tell a friend.