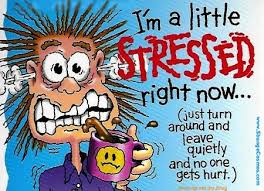 The traffic was horrific. I could hardly wait to get home. The drive before me was long—eight hours to be exact. The week before I had been in Charlotte for our annual She Speaks conference. Then, I flew home long enough to pick up my daughter and drive to Indiana for an interview. All went well, but I told my daughter "when I get home, I'm not doing a thing." I meant it too. That's when my cell rang.
"Hey, what are you doing?" The caller asked. It was my friend, Mr. Shannon who runs the football club at my son's high school. I've known him for years. He married one of my besties.
"I'm stuck in traffic." I complained.
"I'm calling to make sure you're going to be at the school tomorrow. You signed up to sell season passes." He added.
I almost passed out right there on some bridge located in the middle of Indiana. How could I have forgotten? I thought to myself. It couldn't be because I'm writing a book, just spent a week at a large conference, and took a road trip for a 15-minute spot on the Harvest Show. Not to mention I hadn't slept in my own bed in the past nine days. How could it slip my mind? It did so because I said, "yes" to one more thing when I should have said, "no." My schedule was already overcrowded, but like Lysa says in her book… I have a "disease to please."
Everything inside of me said, just tell him. Explain that you simply can't do one more thing. Even though you signed up, it was a mistake. You already have too much on your plate and what you really need is some good rest.
It sounded good in my head but what came out of my mouth was, "Sure. What time do I need to be there?" My daughter looked at me in disbelief and then shook her head. We practiced saying the word, "no" over the next couple of hours in the car.
The next day, I showed up at the high school to pick up my box of tickets, t-shirts, and money for change. As Shannon explained the instructions, I listened carefully. I even repeated them back before heading to my station. We have two elementary schools in our area that feed into the same high school—Madison Creek and Beech Elementary. I was to sell tickets at Madison Creek Elementary.
When I showed up, someone else was already working at the booth. He also had a box full of t-shirts and tickets.
"Did Shannon send you here with a box too?" questioned the worker.
"Yep. I don't know why," I answered. "I just do what I'm told."
We had been selling our items for about an hour when Mr. Shannon called my cell.
"Hello?"
"Where are you?" asked Shannon.
"I'm at Madison Creek." I responded with a matter of fact tone in my voice. The guy working beside me leaned over and whispered, "No, you're not. You're at Beech Elementary."
Oops. (That would explain why we both were working the same spot.)
Panic set in.
Still on the cell with Mr. Shannon, he also infomed me of my whereabouts. "You can't be  at Madison Creek because that's where I am and you're not!" I wanted to fade into the brick wall behind me. After many apologies on my part, I left completely embarrassed!
How can a person be in one location but believe she is in another? Apparently, I can. And it's not the first time I ended up where I didn't belong. I'll spare you the details and me the red face.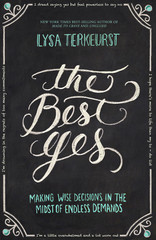 On the up side, I'm reading Lysa's book, The Best Yes. For me it's timely, and I believe it will be for many others. We live in such a busy, fast-paced world we don't know if we're coming or going. Our schedules are so full we leave no room for a divine assignment. I wonder if we would even hear it?
I'm learning that sometimes saying, "no" IS my best "yes." That's not all. When the rush of life pressures me, I close my eyes, take a deep breath, and pray, "Lord, unrush me." Then I give myself permission to take a break and be still before God. That when something magical happens. The warmth of His Presence and the gift of His peace washes over me in those still, quiet moments. Eventually, I believe these moments can merge together creating a life unrushed.
GIVE AWAY!!!
If you can identify, then you need this book. It's changing me and I like it. And because I'm so thrilled over Lysa's message, I'm giving away 3 copies of The Best Yes. Leave a comment about why you need The Best Yes and you automatically enter to win! Good luck!