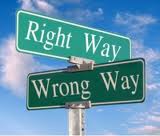 Character is willing yourself to do what God says is right no matter the personal cost. We are called to mirror His image to a lost world. That's easier said than done especially if you're a college student.
I've had long talks with my daughter on this subject. In college, she's asked to compromise her godly character everyday, sometimes more than once a day. My heart goes out to her. No matter what season of life we're in, challenges come our way that tempt us to fit in instead of stand out for the glory of God.
A person with godly character walks away from juicy gossip about a friend.
A godly person comes in when the whole world has walked out on her neighbor, child, husband or friend. Godly character chooses God's way over the world's way.
On the other hand, when we knowingly compromise our character, a change takes place deep within. In that moment, we become highly aware of our disparity between God's standard and the one we have just lived out. All of the sudden, we feel unworthy and distant from God. You may have recognized this feeling. We call it guilt.
What happens next is we begin avoiding God altogether. This makes God seem even more distant than before. We also begin entertaining thoughts such as, "I've really messed up. God will never take me back now." Others aren't as hard on themselves. They feel messing up simply means sitting on the back row of heaven. Either way instead of facing the problem, we avoid it as if God isn't there.
Nothing is further from the truth. Ps 139 tells us that God is everywhere all the time. That means there is nowhere you can go that God isn't already there. This is a very comforting promise when you long for the comfort and presence of God. When you're trying to avoid Him, it's a different ballgame.
The fact is God is not distant or uninterested in you. But when our purposes and priorities don't match His, your relationship will suffer.
God's purpose for your life and mine is to bring our character into line with that of His Son's. The good news is that's what the Holy Spirit is doing inside of us everyday! When we focus our attention on that truth, no matter our failures, we'll begin to see and feel the presence and power of God at work in our life.
Maybe you need to pause right here and talk with God. Tell Him your sorry for compromising your relationship with Him. Thank God for His forgiveness and willingness to work daily in you so that you become more and more like His Son.