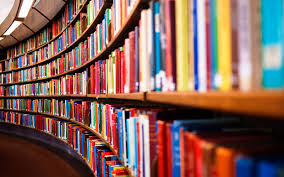 There's something wrong with today's Christianity.
Recently, I was strolling through a bookstore in search of the perfect cookbook to give my mother as a gift. As I made my way to the back of the store where the cookbooks are shelved, I couldn't help noticing the number of books that were written about me! That's right, me.
Title after title was about my purpose, my pain, my dreams, and my spiritual success. Last I checked having Jesus was spiritual success. He was all I needed!
I understand God is a personal God who cares about the details. I'm thankful for that in my own personal relationship with Him. On the other hand, while Scripture clearly assures us of God's love and blessings, the main focal point is not about us. It's about God. In fact, Rick Warren's book, The Purpose Driven Life, opens with this. "It's not about you."
His book is probably the most honest about our purpose than any other I've read. It's simple.
You and I were created by God, for God. He is a holy God and His ways are right and true. Our main purpose is to glorify Him.
In Isaiah 43:7 God says, "everyone who is called by my name, whom I created for my glory, whom I formed and made."
In 1 Corinthians 10:31 we read, " So whether you eat or drink or whatever you do, do it all for the glory of God."
If this is true, and it is, why are there so many messages, books, and conferences about this topic?
Could it be that we've switched or confused the principle of "doing God's will" with "fulfilling my purpose?" Isn't doing the will of God our purpose? Why are we making this so hard? The bible is clear about our purposefulness.
We are to glorify God by being obedient to His will. We are called to…
Love God and love others
Be a shinning light in our dark world
Share the gospel with others
The list is long. And it's more than enough to keep us busy, satisfied, and fulfilled.
I use to think that God's purpose for my life was to fulfill my dreams or make me successful. It is not. God's purpose isn't to make me healthy, wealthy, and happy either. Nor is His purpose always bright and wonderful as you and I imagine.
What if God's purpose is pain, loss, or tragedy? Sometimes it is. And when it is our purpose remains the same.
We look to some end when the purpose of our lives is NOW. This minute. It's the journey of growing and becoming more and more like Christ. When our focus is Jesus everything else takes care of itself.
One of Satan's biggest schemes is to turn our attention toward self instead of God. Why? It's to steal God's glory and stunt the spiritual growth of men and women. I fear this has been our path for a long while. Let's turn the tide. Let's be courageous. Let's commit to the message. Jesus is our purpose. He is the answer.
~~~~~~~~~~~~~~~~~~~~~~~~~~~~~~
I asked my friend, Lisa Whittle, to read this before I posted it because we have similar heart beats. I've included a short paragraph of her words. She says it so much better than me.
"I could not agree more about all the books, all the emphasis on worth, even. I'm tired of that conversation because what fruit does it produce? We feel better for awhile, during a retreat, etc, but then we sink back when life goes on as normal and we are again caught up in our insecurities and thoughts. I believe we do give way too much time and attention on ourselves. All the self-help books, seminars on how to be the best whatever, it's all "me" focused and God is the hopeful result of all our working on ourselves. The problem is: we have it turned around. If we would just pursue God we would be naturally better. This is why I wrote, I Want God."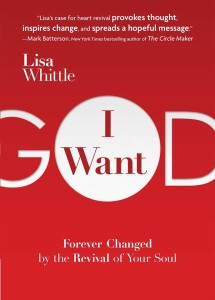 I highly recommend Lisa's book. It stirred my heart and created a deep desire for God alone. If you're tried of you, take a fresh look at God.