"When did my life fall so far out of balance?" I screamed while seraching through piles of papers on my desk and under my desk. My husband came to the top of the stairs to see what all the madness was about.
"I can't find the papers I need." I complained.
"Don't you have that information on your Mac?"
"Yes, but I can't reprint it because I forgot to pick of ink for the printer."
"Micca" my husand said tenderly. "What you need is a life coach." He was right. I was over scheduled, over committed, and overwhelmed. At some point, I had become stuck in a rut and couldn't get out. Sound familiar?
Good news! My dear friend, Pat Layton, has written a book called, Life Unstuck. Through her book, Pat has become my life coach, leading me through scipture, helping me find balance, and teaching me to fall in love with God all over again. Today, I'm interviewing Pat about her book. And, I'M GIVING AWAY A COPY! Leave a comment below to enter to win!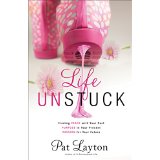 1. Pat, what led you to write your book Life Unstuck?
Life Unstuck is the result of over 30 years of life transformation! My first time reading Psalm 139 as a new Christian, led me on a journey to personal healing from a very broken past that had climaxed in having an abortion at age 23. God used the 24 verses of Psalm 139 to show me His redeeming love and grace and those words became the roots God used to lead me into full time ministry. Very soon after receiving my own healing God led me to open Tampa, Florida's first crisis pregnancy center and write what is now an international post abortion recovery curriculum called Surrendering the Secret published by Lifeway in 2008. A few years ago God began to stir the Life Unstuck message in my heart which resulted in this new book!
2. What's different about Life Unstuck compared to all the other books out there about God?
Life Unstuck is basically a life coaching, life FREEDOM plan using the 24 verses of Psalm 139! In this prayer/poem David addresses God in a direct and personal manner using the pronoun "YOU" 11 times twisted together with the use of the word "ME" 13 times! Life Unstuck breaks down this interaction between David and God and shows us how to apply it's rich revelation to our own lives.
3. Your book is filled with scriptural truth. Can you share a sample or two of these verses and why you chose them?
Verse one kicks off the rich depths of Psalm 139 and prepares us for a deep dive. "Oh Lord you have SEARCHED ME and you KNOW ME!" David gets us at "hello". God knows you, He sees you. Everything about you! How you think, how you talk, where go and who you go with! At first look, I was not so sure this was actually GOOD NEWS! I have done a whole lot of stuff in my lifetime that I don't like thinking about being in front of a Holy God. As I have allowed God to work this verse out in my life and heart, I have come to find complete hope and peace in those words, God KNOWS me and Loves me Still!
4. Who did you write your book for? Who can benefit from this message?
My dedication page is "for the woman who secretly suspects there is nothing more but desperately dreams there is. The bottom line is, this book is ONLY those women who ever find themselves STUCK somewhere in life—relationships, finances, marriage, ministry, parenting….ONLY HER! J
5. What was your goal when you started writing Life Unstuck? Was it achieved?
My hearts desire with this book is to share the good and complete love of God with every woman who reads my book. I want her to know "God SEES YOU and has a plan for your peace, purpose and passion"! I also hope to inspire a feeling of community and conversation with other women. Yes, it was achieved, at least for me because I FEEL that already from this book!
6. What do you feel is the greatest obstacle people must overcome in order to make a deep relationship with God a priority?
Overwhelmed schedules and misplaced commitment. In other words, letting life AROUND of God overtake life IN Him!
7. What has been the biggest answer to your own prayers in the writing and publishing process of Life Unstuck?
My own reminders and recapture of the truths found in the 24 verses of Psalm 139.
8. How has Life Unstuck changed YOU?
The year of writing Life Unstuck was by far the toughest year of my journey as a Christian. I lost friends. I lost identity. I lost family physical closeness as each of my children and Grandchildren moved away from home. I even moved from my own home of over 20 years. My foundations were all rocked one by one, BUT GOD! As I dug into these verses every single day, by ORDER of a contracted deadline, God changed me. He unstuck me from many areas of bondage and burden that I never knew where keeping me away from my next adventure with Him. I re-learned that He sees me and has a plan for my life—a good plan. A God plan!
9. What is your prayer for anyone who reads Life Unstuck?
My hearts desire is that every woman who reads Life Unstuck will fold the last page of the book with a smile on her face and a feeling of peace, purpose and passion. I pray she is a different woman from the one who opened the first page. The foundational truths found in Psalm 139 are never "mastered" this side of heaven. We always need to be reminded of them and to re-embrace them, regardless of our level of spiritual maturity or experience. I pray that the Unstuck Manifesto becomes worn from wear and a part of her very core!
10. What are some practical ways your readers can implement the principles found in Life Unstuck
Life Unstuck provide the reader with personal hands on tools and exercises that will help them gain deeper insight into the one of a kind woman God created her to be; provide very specific steps for confronting the past in a healthy way; offer her steps to take for developing a more intimate relationship with Christ; help her intentionally discover her purpose in life TODAY just as she is living it and stir her heart and mind towards dreaming big God sized dreams for her future.
Thank, you, Pat for sharing your heart and passion with us today. I know your book will be a blessing!