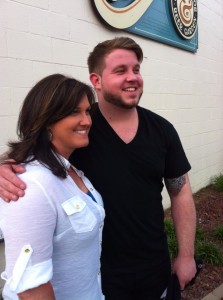 (Mitch and me today)
I was a single parent until my son was five years old. Those were difficult days on many levels. Most of the time I felt tried and overwhelmed by all my responsibilities. There was no one to share them with me—no one to worry with, plan with or give a bath to my son when I just needed a break.
To make matters worse, we lived in an upstairs duplex. When my son was a baby, it was a daily challenge getting him, his diaper bag and groceries upstairs all at once. I didn't want to leave him in the house or the car alone so I learned how to pack on the items. Once I climbed to the top of the stairs, my next challenge was unlocking the door. Eventually, I stopped locking my door all together. Not safe, I know, but when you're a single paren you do the best you can.
Most days I felt like the whole world rested on my shoulders. While I tried to carry the load, I knew I was too weak. The load was crushing me, and yet, I continued to fight. I tried harder. I had too. I had to be strong. If I put down the load, who was going to pick it up?
One day, I came across a familiar verse that spoke to me in a new way.
"My grace is sufficient for you, My strength is make perfect in weakness."
Suddenly, I realized that my situation was an avenue for me to experience God's strength. I didn't have to put on a brave face. I didn't have to pretend to be made of steal. I simply needed to surrender my weakness to God in exchange for His strength.
This is what Paul did in 2 Corinthians 12:7. He prayed repeatedly about a difficult situation in his life asking the Lord to take it from him. God responded, "My grace is sufficient." The good news is His grace is enough for you and me too.
If I've learned anything in my walk with God it's that he may or may not remove our circumstances, but He will provide what we need to succeed. He gives us Himself, His power, His strength and His wisdom. God knows what we need before we ask Him, and He's willing and ready to provide.
When I surrendered my situation to God, my circumstances didn't change right away but I had a renewed sense of God's Presence and power in my life. I no longer felt alone. My eyes were opened to God's activity in the life of my son and me. I felt equip with power to achieve my daily tasks.
That's not all. I also noticed that Paul not only surrendered his struggles to God, but he adopted a positive attitude as well. "I will boast in my infirmities, that the power of Christ may rest upon me" (1 Cor 12:9).
I'll be honest. Surrendering my circumstances to God and experiencing his strength in my weakness was more help than me grumbling about my singleness. Complaining was a dead end for me. Boasting in what God can do in me infused my faith causing me to depend on God's strength more and more. His promise became a reality in my life. For when I am weak, He is strong!
In facing our struggles and fears, it's vital that we yield completely to God. When we do, God can use our burdens as an avenue for His power and grace.