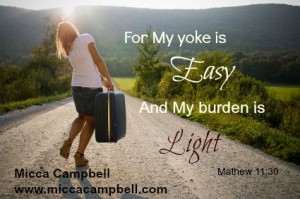 In today's world it is almost impossible to avoid stress and pressure. It's everywhere—in our jobs, relationships, homes, and even in our churches. We are also pressured for our time.
Do you often feel like everything depends on you? Do you ever feel like the whole world needs you all at once? They're gathered at your front door and they're knocking, and the buzzer on the microwave is going off, and your phone is ringing, and your three kids feel like thirty-three kids. All you really want is 5 min alone in the bathroom with a bag of Oreo cookies.
Or maybe you fear missing out on opportunities so you stretch yourself thin. With all this stress you start to doubt God. Perhaps you find yourself thinking,
"Is it worth it to get up everyday simply to fight stress?" Or, "Wasn't Jesus supposed to fill my life with peace instead of pressure?"
Such thoughts come from the enemy. Satan loves to whisper lies into your ears so that it might draw you away from God. That's why Paul encourages you and me in Hebrews 3:12-14 with these words.
"My friends watch out. Don't let evil thoughts or doubts make any of you turn from the living God. You must encourage one another each day. We were sure about Christ when we first became his people. So let's hold tightly to our faith until the end."
You can experience peace in a world full of stress and pressure when we turn from Satan's lies and trust in the promises of God.
God never said this world would be easy but that He would be at our side.
"We are hard pressed on every side, but not crushed; perplexed, but not in despair; persecuted, but not abandoned; struck down, but not destroyed. (2 Cor 4:8-9)
This is our hope. No matter what or how much pressure falls on our shoulders we will not be abandoned by almighty God and we not be destroyed.In fact, God wants to carry the load for you. We do that by taking Peter's advice. "Cast all your cares on Him for He cares for you" (1 Peter 5:7). This is my challenge for you today. Cast your cares on the God who loves you! Let God be God and carry your load. He is both willing and able to do it.