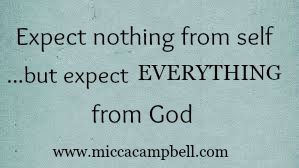 When my children ask something of me, they expect an answer. Then they anticipate the fulfilling of that answer. As children of God we should do no less. We should anticipate great things from our great God. We should never expect anything from ourselves, but we should expect everything from God! We should expect Him to hear our cries so much so that we are looking with anticipation all around us for His answer and provision.
Bible teacher, Henry Blackaby says, "After we pray, whatever happens next is God's answer." Wow. I often miss the magic. I sometimes miss God's loving response to my prayer because I don't anticipate a reply.
The bible teaches us that believing is seeing. "Now faith is being sure of what we hope for and certain of what we do not see" (Hebrews 11:1). We must believe in order to see God's provisions. Let me ask you what I often ask myself. "Do you hope God will answer your needs or do you see God's generous hand at work in your life? Do you wait with expectancy or do you doubt His provision?" Grant it He may be slow at responding, but He's always right on time.
We will see God when we anticipate His involvement in our lives. We will see Him when we can say, "His answer and provision may come slow, but they are sure to come, and I will wait with expectation."