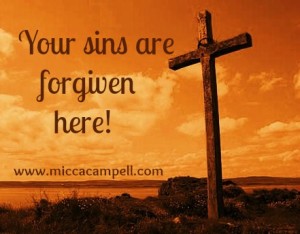 Is there something in your life you feel that God can't or won't forgive? We've all struggled with the assurance of God's forgiveness from time to time. We tend to think, "What I did God could never forgive.
Too often we're comforted by a friend telling us that God understands and all He wants is for you to do the best you can. While this advice is sincere, it's far from truth. God isn't looking for good intentions but solid righteousness.
Righteousness, which means right living, is a high standard. Like most, you've tried and failed time and time again. It's frustrating. And this is where we get hung up. It's where misunderstanding of the gospel collides with doing our best. What's missing is our comprehension of what Jesus has already done for us.
Jesus lived a perfect, righteous life on your behalf. Then, He suffered and died on the cross to pay for your unrighteousness. Jesus took care of everything! When you believe this by faith, you receive the perfect righteousness of Christ rather than trusting in good intentions.
No matter what you've done, Jesus has already paid the price for you. And because He's clothed you in His righteousness, that's all God sees when we loving looks upon you.
If this is true, and it is, why then do we torture ourselves with guilt and commendation? We don't have to. When we trust in God's provision, guilt and shame give way to freedom and peace. This is what Jesus died to give you. Will you receive it His matchless grace?