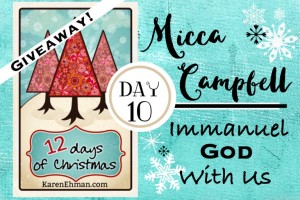 Merry Christmas! If you've stopped by because of my post from Karen Ehman's 12 Day's of Christmas, welcome! If not, I hope your pop over to Karen's blog and read my post and enter to win, The Greastest Gift, devotional by Ann Voskamp.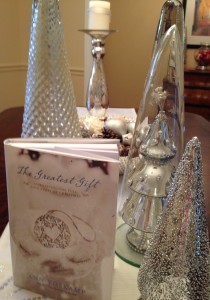 Christmas isn't about presents, glowing Christmas trees, and decorations. It's so much more! Christmas is about God's desire to have a relationship with you and me.
In any other religion, people work their way up to their god. In Christianity, we have a coming down God. This is the astounding truth of Christmas! God left heaven, took on human flesh, and came down to be one of us.
God desires to be with you. Sure God has always been with us, but when Jesus entered the human world as a babe, everything changed. Immanuel, God is with us.
He's there in times of celebration and times of great agony. He's there in love and in suffering. God may seem distant at times in our lives but we must remember that it isn't God who has withdrawn. It's us. God's Presence is always available. He's always interested in your relationship with Him, and willing and able to provide for your needs. Sometimes, it's a matter of calling on Him and then trusting in His care no matter what the situation may look like.
Having a relationship with God is His idea. In the beginning we're told that the Lord walked with Adam and Eve in the garden. When God sent Jesus into the world, it was to renew that kind of relationship with us! His Name not only confirms this truth but reveals the comfort we long for… Immanuel, God with us.
"And all of this is a gift from God, who brought us back to himself through Christ. And God has given us this task of reconciling people to him." (2 Cor. 5:18, NLT)
Jesus Himself made it clear that relationship with God should be our highest priority in this life.
"If you abide in Me, and My words abide in you, you will ask what you desire, and it shall be done for you. By this My Father is glorified, that you bear much fruit; so you will be My disciples." (John 15:7-8, NKJV)
The fact that God entered our world to become one of us and to be with us is a marvelous, moving message of hope. It's why we proclaim to others His birth at this time of the year; spreading the Good News of freedom from sin and an intimate relationship with God Himself!
So have a very merry Christmas knowing that God loves you and wants to be with you. May you know the presence of your Heavenly Father in a special way during this blessed season.