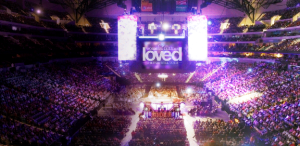 If you missed my article on the BELONG Tour 2016, here's the link 3 Steps To Discovering Your Purpose 
If you love Women of Faith, like I do, then you're going to be head over heels about their all new BELONG Tour 2016!
What's a BELONG Tour? I'm glad you asked!
"BELONG is fresh and new; a Friday night and Saturday experience that invites you to immerse yourself in a space where you can be exactly who you are. A place where God will meet you. It's called BELONG, because you DO. Everyone is invited. Nobody is excluded. No matter your age or stage, if you go to a church or not, if you've got it all together or are piecing together a string of messes, BELONG is YOUR place, where you'll find your people.  At BELONG, the team will help you do the work to discover your purpose and vision, learn to create and nurture healthy relationships, and make sense of what it means to apply faith to everyday life."
Sounds awesome right? What woman doesn't want more faith, stronger relationships, and an extra dose of purpose and passion? That's what you'll get. The best of Women of Faith from the past 20 years!
Interested? Of course you are! You can learn more about the tour, dates, and participants by visiting the BELONG Tour blog.
That's not all. Guess who is guesting posting on the BELONG Tour blog today?
Me! Me! Me!
I'm super stoked and excited to present "3 Steps To Discovering Your Purpose."
It's good stuff y'all. I've already said more than I should.
Hop over and check it out! (Click on my picture) Also, help spread the news about the Belong Tour by sharing my post on your social media!
I'm praying God will use my post to encourage your heart and point you toward your God-given purpose—what you were created to do!