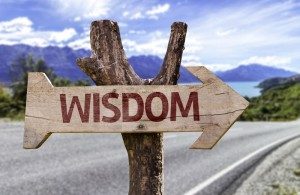 Where in your life today do you need wisdom? You're facing a new challenge at work. You have a big decision to make. Your child is hurting or the diagnosis is bleak. It's unknown territory. You've never traveled this road before and you don't know what to do or which way to go.
Life is composed of a series of decisions that require wisdom exceeding our own. However, human wisdom is notoriously frail and fallible. We are easily perplexed by the difficulties of everyday life. We desperately need wisdom, which is why it's so important to have a plan for making wise choices.
How do we arrange a plan that promotes right choices and honors God? We follow Solomon's example in 1 Kings 3.
Acknowledge Your Need for Wisdom. 1 Kings 3:7
The opening of 1 Kings 3, presents a young king Solomon who after his father David dies, suddenly steppes out of an ordinary life into the glories of David's throne. The responsibilities are beyond his years. Young, raw and inexperienced, he communicates his inabilities to carry out his duties with God. Already Solomon is acting wise. So often we rely on our own ability instead of relying on God's super-ability in us. God has already equipped us with everything we need for life through his Spirit in us. (2 Peter 1:3) We only have to acknowledge our need to receive his provisions.
Ask for Wisdom. 1Kings 3:9
We are not without help. Solomon asks for understanding so he could govern God's people. In a world where right seems wrong and wrong seems right, we need divine discernment to distinguish between the two. God is pleased when we ask for wisdom. Out of His goodness, he gives us a generous supply. (James 1:5) I realize for some, it's difficult to ask for help. We want to appear strong and intelligent in and of ourselves. I get that, but I've yet to meet anyone who has mastered wisdom. We all can use more. Praying for discernment shows our dependence on God and our trust in God.
When we ask something of God according to his will, he not only grants the request but exceeds our expectations. (Ephesians 3:20)
Apply Wisdom. 1 Kings 3:27
Solomon's wisdom in ruling the dispute between two women over motherhood, is evidence God granted Solomon the gifts of discernment and understanding. (1 Kings 3:12) How he judged the argument also reveals something profound. It isn't enough to obtain heavenly insight. Wisdom is the application of knowledge. A person doesn't simply fill their minds with knowledge. That would make them nothing less than a know-it-all. A prudent person seeks, asks and applies wisdom to their daily life. Perhaps this is why Solomon is known as the wisest man who ever lived.
It's wise to seek heavenly wisdom above and beyond earthly treasures.