Today, the spotlight is on Lynn Cowell.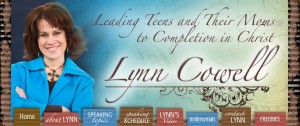 Lynn is serious about God and His Word. That's not all she's passionate about. Lynn has a heart for teens. I know what you're thinking. "Who likes to be around teenager's–right?" That's how I know she is called to encourage and challenge teens to become all God intends. And she's good at it too! I love Lynn's passion for God and her commitment to make Him known to the next generation. Don't miss out. Visit Lynn at www.LynnCowell.com and www.RadRevolution.org
 Interviw:
 Lynn, how did you know for certain you were called to write/speak?
One day as I was worshipping in church, I had this picture come to my mind of me hanging out with a very small group of teen girls sharing my story. I told my husband and he said I should what I saw…so I did. It was horrible! Every bad thing that could happen did, but one girl asked me to mentor her that night. From mentoring this one girl it grew to many girls. I then knew that what I was sharing was something many girls needed to hear…that Jesus' love was radically different from any they had know before and could revolutionize their life.
How did you become a part of a National ministry like Proverbs 31?
 I started volunteering at Proverbs doing a job that wasn't getting done – entering names and emails into their database after speaking events. I served for quite awhile before I applied to the team. P31 didn't have anyone who was speaking to teens so I fit a need they had. (I still volunteer in this same role 🙂
What's one thing you would suggest to our friend's that would help them get started?
 Lysa TerKeurst has called it the "pits" – putting in time speaking. Start out at small group studies, MOPS groups…any where you can. Serve. Give away your services and be willing to serve. Ask friends to help you to speak for their groups and churches. Serve….and serve again. Don't feel that any opportunity to share Jesus' truth is beneath you.
Tell us something about yourself that we don't know.
 I'm a mountain type girl stuck in a big city! I love hiking, rafting…all things outdoors.
 Thanks, Lynn, for sharing your story with us! See you at She Speaks!