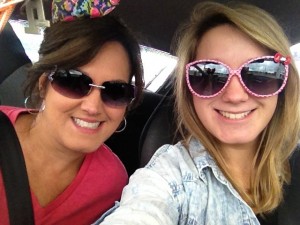 My first day of college went better than expected. Oh, wait. You didn't think I was talking about myself, did you? I'm not attending college my daughter is. While it was a big day for her, it was also a big day for this mom. I only want the best for her.
I confess there were times I didn't want to stay up late talking about whatever. But I hope she finds a friend that will listen to her dreams, fears and goals day or night.
I admit there were times I wanted to kill her. But I dare anyone to harm her at school. My revenge could possible make Jesus cry. Just sayin'.
And there was that time I slept through her phone calls while she was stranded late at night. I pray she has better friends than her mom who will come to her rescue in times of need.
I've made many mistakes along the way, but by the grace of God she's turned out pretty amazing. She's ready to spread her wings. She grounded in her faith, and she has the drive to succeed. So, this mom has nothing to fear. I've always trusted God to guide and protect my children, and He has. I know He's with her now.
Trusting God with this new season of my daughter's life (and mine) has allowed me to let go and enjoy move in day. Peyton not only had the support of her mom and dad but her grandparents too!  We didn't just drop her off, unload and head for home. No! We stayed and cleaned, unpacked and set up. It was picture right out of the movie of "My Big Fat Greek Wedding." Except we're Italians. Okay, so there's not much difference. I know. Family IS important to both the Greek and Italians.
All was going well with unpacking. Dad washed the dishes and pots and pans. Grandmamma set up her pantry. Granddad assembled the TV while Peyton cleaned the bathroom. I supervised. What? That's the most important job! Don't judge me. Anyway, all was going well until Hannah, the roommate, came through the door.
You could read the question her face. Who are all these people and why are they in my apartment?
Peyton introduced herself, and then her family. J We promised to get out of their hair soon. That was about 1:00 in the afternoon when I made that promise. We actually left about 7:00. I couldn't leave until everything was set-up, clean and in it's proper place. Not that it will stay that way, but it made this mom feel better knowing for a moment it was.
Just before we said our good-byes, there was a knock on the door inviting MY DAUGHTER and her roommate to a speed-dating event. WHAT? This was move in day. School hadn't even started and the hormones were already flying. Oh, dear. Good thing Peyton's grandfather answered the door.
"Is that right? He said. Well these girls wouldn't be interested in that kind of social event. But thanks for stoppin' by."
After the knock on the door, I felt compelled to camp out on their small patio for a year with my gun. Peyton didn't go for it. In fact, she reminded me it was time to go home.
Sigh.
We hugged and kissed and then kissed and hugged. I stood there as she shut and locked her door. Then, I turned and headed toward the car where her dad was waiting. Halfway there I twisted around for a quick last look and there she was–standing in the window. It warmed my heart. I also realized the next time I see her she'd be different.
More grown up.
More confident.
More self-reliant. …just as it's meant to be.