Hi there! Welcome to my blog! I'm so glad you've stopped by today. You may be a regular or maybe you popped over after reading my devotion today from Proverbs 31 Ministries, Three Ways To Be The Best Friend Ever. Either way, I imagine you struggle when it comes to friendship. Can I be honest? Everyone does from time to time. Even me. I wish we could sit down and talk over coffee about how my self-image and shyness kept me from being and having the friends I desired.
I've since grown from that girl. Today, I'm very out going and relational. I have many friends and I'm thankful. This I know. If I can do it you can too! Sometimes, it's our own perspective about ourselves that holds us back. Take the relationship between Shrek and Donkey for example. If you don't know these animated pair, allow me to introduce you.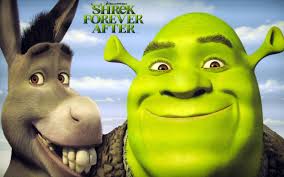 Shrek is a boorish ogre, who finds a friend in a talking donkey (Played by Eddie Murphy) and unexpectedly falls in love with a princess (Played by Cameron Diaz), whom he rescues from a castle guarded by a fire-breathing dragon. This fairytale spoof emphasizes how humans place too much importance on outward appearances, and a lesson about friendship.
After freeing the princess from the castle, Shrek and Donkey escort her back to the village in keeping with the prince's orders. Because the journey is long, they decide to camp out. Around the campfire, Donkey talks to Shrek about what life will be like once they return to Shrek's home, a humble swamp.
Looking up at the sky, Donkey asks, "Hey Shrek, what are we going to do when we get back to our swamp, anyway?"
"Our swamp?" Shrek challenges. "There's no our. There's just me and my swamp, and the first thing I'm going to do is build a ten-foot wall around my land."
Donkey is surprised. He thought they had developed a friendship that would result in sharing their lives and possessions once the quest was over.
"You cut me deep, Shrek!" Donkey confesses. "You cut me real deep just now. You know what I think? This whole wall thing is just a way to keep somebody out."
The two argue and exchange verbal jabs. At last Donkey asks, "Who are you trying to keep out? Just tell me that, okay?"
"Everyone! Okay?" Shrek exclaims.
"Hey, what's your problem, Shrek? What you got against the whole world, anyway?"
The huge ogre seems almost childlike as he candidly explains, "I'm not the one with the problem. It's the whole world that seems to have a problem with me. People take one look at me and go 'Ahhh! Help! Run! It's a big, stupid, ugly ogre!' They judge me before they even know me. That's why I'm better off alone."
Donkey joins Shrek and says, "You know what? When we first met, I didn't think you were just a big, stupid, ugly ogre."
"Yeah, I know," Shrek acknowledges with gratitude.
For the first time Shrek realizes someone has looked beyond his outward appearance and accepted him. There are many people today with the attitude of Shrek. They've isolated themselves from the rest of the world out of fear. Maybe you're one of them. There's good news is it can be different. You can have the kind of intimate friendship that David and Jonathan shared. You don't have to be alone any longer.
To be a good friend you must see the value you bring to the table. (See post: Seeing Yourself Through God's Eyes) Next, make a list of your qualities. I'm loyal and kind. I like to serve others. I can see when someone is hurting. I'm fun. I like to hike. I like movies. You get the idea. Once you have a list, you know what you bring to the table.
If you can identify a hurting person, comfort them.
If you like to cook, make someone a meal.
If you like movies, invite someone to go along. It's really that easy. To have a friend is to be a friend.
Let me be your friend today. I'd love to pray with you or celebrate your joys with you! Just leave them in a comment.
Stop back by Monday. I'll post about the Four Commitments of Marriage according to God's plan.