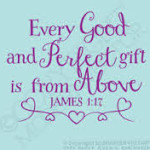 When my children were little and had good news to share, they all started with the same phrase. "Guess what, mom?"
Usually the exciting news happened at school. He or she would jump off the bus and run to the house as fast as their little legs would carry them. Then, I would hear the back door slam shut—BAM—as they called for me. "MOM! Guest what?"
With a sparkle in their eyes and a huge smile spread across their face, they would share their joy with me.
In those moments I'd tell them how proud I was of their accomplishment and we would cheer together followed by a big hug. Their joy became my joy for three reasons.
They are my children
I love them
I long to share in their happiness and success
In the same manner, our heavenly Father loves to share in our joys too. We're really good at coming to Him with our problems and pain. But how often do you run to Him calling out, "Guess what?" How many times have you climbed into His lap and rejoiced over good news, an achievement, or answered prayer?
Because you are His child and He loves you, and longs to share in your joy. Besides, the bible tells us in James 1:17, "Every good and perfect gift is from above, coming down from the Father of the heavenly lights, who does not change like shifting shadows."
If every good thing that occurs in our lives comes from His hand, it seems right He would be the first person we'd tell, throw confetti with, and offer a sincere "thank-you."
What joy do you have today that you and God can celebrate together?