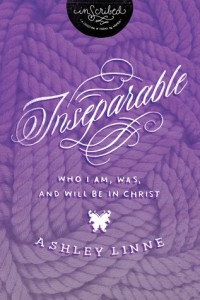 Today, I'm excited to have Ashley Linne as a guest on my blog! Ashley's new bible-study, Inseparable: Who I Am, Was, and Will Be in Christ, is part of a the Inscribed series. What's that? It's a collection of studies by women inspired by Proverbs 3:3.
In today's post, Ashley provides a link where you can download a free chapter from ALL 3 new books!! That's not all! I'm giving away a copy of Ashley's book to a lucky winner when you leave a comment!!! Yay!!!!
Now, let's hear from Ashley… 
One of my biggest pet peeves is exclusivism. You know, the "us" and "them" mentality. It drives me insane.
I've probably been cliquish more often than I realize, because that's the way it goes, right? We seem to be guilty of the things we dislike about others the most? But really… that attitude that someone has to be a certain kind of person to fit into a group or be in a club… I just can't stand it.
Nothing against sorority sisters individually—I have a few friends who are loving, Christlike women and were in sororities—but my college campus Greek system was one of those things that always irked me. My freshman year I experienced my first rush week. I figured it would be only a matter of time before I was bombarded by sorority girls asking me to come to a party and be in their group. Well, it never happened. I went all four years of college and was never invited to a sorority or fraternity party. (It was probably because I wore Daria t-shirts and silver combat boots and practically wore a sign that said "I don't want to" but, still.) I felt like I wasn't good enough for them.
Aren't you glad Jesus doesn't have a criteria for the sort of person He wants to be around?
I think we can all agree that Jesus wants everyone to know Him, love Him, and be rescued from their sin. When we come to Jesus, we don't have to worry about being a certain type of person or in a special club. Thank God!
But what about eternity?
What about "getting into heaven?" Is that an open-invite party?
The key to eternal life is being in Christ. And it's a make-it-or-break-it kind of deal. That part of me that hates exclusivism would like to think that in the end everybody makes it to heaven. But if that were the case, why in the world would the Son of God go through torture and crucifixion?
The fact of the matter is, "God loved the world in this way: He gave His One and Only Son, so that everyone who believes in Him will not perish but have eternal life" (John 3:16 HCSB). Jesus' message was, "Repent, for the kingdom of heaven is at hand" (Matt. 4:17 ESV). The word "repent" literally means to change one's mind or perception; to stop pursuing one direction of life, turn around, and go in a different direction. We can't be going our own way and going to heaven at the same time.
I believe it is important to focus on the fact that anyone is welcome, just as he or she is, to be in Christ. But the reality is that not everyone will choose to be in Christ. It is one of those things that keeps me awake at night. What about this dear friend, or this beloved family member, or people in this language group who have no access to the Gospel? What if…?
There are lingering questions I will probably always have about how eternal salvation works. But if we're in Christ and He is in us, we can rest assured that our future is secure and also know we have a job to do in calling others into the fold.
"Indeed, I count everything as loss because of the surpassing worth of knowing Christ Jesus my Lord. For his sake I have suffered the loss of all things and count them as rubbish, in order that I may gain Christ and be found in him, not having a righteousness of my own that comes from the law, but that which comes through faith in Christ." (Phil. 3:8–9 ESV)
Excerpt from Inseparable: Who I Am, Was, and Will Be in Christ by Ashley Linne. Download a FREE Chapter from all three new Inscribed Studies Here.
About Ashley:
Ashley Linne is a wife and mom who loves to write, sing, and travel. She is passionate about discipleship, mentoring, and sexual abuse prevention. She has been leading small group Bible studies for over 15 years is the author of Inseparable: Who I Am, Was, and Will Be in Christ. Ashley lives with her husband and son in Bellingham, WA
Thank you, Ashley, for sharing with us today!