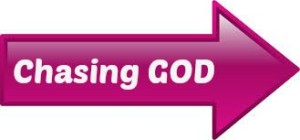 There are two things that keep me from pursuing God fully. My love of self, and my love of the world.
"At some point in life, we have to come to grips with weather He or me is the main feature of our life." ~Oswald Chambers
Pondering this one statement I've come to understand that pursuing myself (or what the world offers) is boring and unsatisfying. All I'm really left with are my insecurities, flaws, hollow wisdom, and many embarrassing moments. There are no real benefits. How could there be. I'm just me. A creation of the Creator.
But consider God for a moment. When He alone is my pursuit, I find getting to know God is a wonder adventure! The journey is rich and fulfilling. It holds all the things I try so hard to reach for by myself. Right there—in God—is everything my soul longs for. It's waiting for me to discover. And here's the real kicker! I find chasing hard after God and getting to know Him is the journey to finding peace with myself.
What are you waiting for? Join the chase!