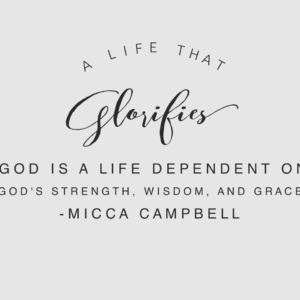 Did you know that we are created in Christ to do good deeds that glorify God? (Eph 2:10)
God grants each of us a gift, some talent or ability to bless others, edify the church, and glorify the Lord. A life glorifying God through it's gifts depends on His strength for the task at hand. We exalt God when we joyfully depend on His help when we serve, write, sing, encourage, or whatever your gift may be.
I want to live a life of praise and worship, yet often fall short. For example, God has called me to speak and teach His Word. While I love my ministry, and calling, sometimes I complain about the travel, or the time it takes away from my family, or having to eat unhealthy airport food, again. This attitude is not one of worship or gratitude. Usually, it's a sign I'm operating in my own ability instead of the super-ability of God's power in me.
Do you find yourself complaining about your gift, your job, or the mess the kids made? Are you weary from trying to "do all and be all" to everything and everyone? This is not God's design.
The bible tells us that "every good and perfect gift comes from above, from the Father" (James 1:17). This means our jobs, homes, and talents are all gifts from God in which He calls "good" and "perfect." We don't always see our gifts as such because we attempt to use them in our own strength. God never gives us a task that He doesn't provide the strength to do.
Having an "I've got this" attitude by relying on my own skill, intellect, and performance shines the light on me instead of God. Eventually, the thing I love to do becomes a job rather than a joy.
On the outside people may see my talent and the fruit of God's blessings, but God sees my heart attitude.
From Heaven's perspective, God sees:
Me depending on my own resources than His.
No Spirit of joy, humility, and gratitude.
No glory for Himself.
Each time God provides an opportunity to do a "good deed" for His glory it should fill us with humility, awe, joy, and gratitude. Not because we have to but because we get to participate in making Him known to others.
This approach calls for His help, wisdom, and strength.
This mindset lives to brag on God for the fruits that blossom from our labor.
This view prevents criticizing and comparing ourselves to others
This attitude pacifies grumbling and promotes gratitude.
A life that glorifies God is a life totally dependent on God. It owns the fact that without Him, I can do nothing.
I exist by God for God.
I need His super ability to do anything of significance.
When I depend on God's strength, it invites a spirit of joy, excitement, and humility in and through our lives where we ride on the grace of God's wings. Then, our lives will point to His magnificence, beauty and all surpassing greatness. It is for His glory He created us to do good deeds in Christ Jesus.
To live a life that glorifies God, we must be honest with ourselves and God. Say to Him:
"Lord, I desire to glorify you today, but I've got nothing—no strength, desire, ability or resource but You. Help me by the power of your Spirit to love You, honor You, and glorify You so my life may point others toward you."