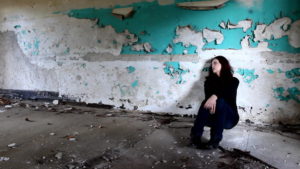 It must have been an unruly scene until Jesus stepped into the situation. Caught in the very act by the Pharisees, the woman's fate hung in the balance. I imagine she felt unbearable loneliness and fear as she lay naked in the streets at the mercy of those wanting to stone her to death. Sin does that. It separates us from God and causes us to experience aloneness and lack of peace. This is a sure sign we need to search our souls and confess our sins so that we can have peace in the Presence of God, again. However, feeling alone and afraid are NOT signs that God's love is absent.
The Bible is clear. "Nothing can separate us from God's love." (Romans 8:31). It's one thing to know this truth. It's another to believe it. "Perfect love cast out all fear." (1 John 4:18). This means when we believe God, in His great love, is ready to forgive us instead of judge us, we find freedom from fear and condemnation.
Sometimes, the feelings of shame and guilt produce self-condemnation. Even the enemy can make us feel unworthy due to our sin, but not God. "There is no condemnation for those who belong to Christ Jesus" (Romans 8:1). We way we escape fear and judgement is to put our faith in the love of God and His desire to forgive and restore us.
This truth is clearly seen through the actions of Jesus in this story.
Finding herself in the horrible situation of being caught in the act of adultery must have caused her great shame and brokenness. Instead, she found indescribable love from Jesus when He asked her accusers, "If any one of you is without sin, let him be the first to throw a stone at her." (John 8:7).
Take note: the only one qualified to throw a stone was Christ Himself. He, alone, had committed no sin.
I imagine the woman could hardly believing her ears as she listened to the sounds of stones dropping to the ground and the scattering of feet as they all ran away.
Now, she's alone with Jesus. As she stares deep into the Savior's eyes, her fear gives way to hope. Some how she knew no matter what happened next, she was going to be okay.
Then, Jesus questioned her. He didn't cast a stone. He offers forgiveness.
"Woman, where are they? Has no one condemned you?
"No one, sir, she answered."
"Then neither do I condemn you. Go now and leave your life of sin." (John 8:10-11)
Jesus gave this woman what every heart needs—love and forgiveness. When you and I are standing naked and exposed before Jesus, He offers us the same compassion and mercy.
Don't misunderstand. The woman was guilty, and according to the law of Moses, she should have been put to death. But Jesus… instead of condemning her chose to save her!
The goal of Christ's love towards us isn't the approval of sin, but rather the transformation from sin. It's offers us a new beginning. Aren't we glad!
It's true. Sin breaks God's heart, but He sees our potential. No matter how far we've missed the mark, God is never ashamed of us—nor does He condemn us. God loves us. He's not waiting to punish us. He's working to restore us. Therefore, we shouldn't be afraid to stand in His presence. His mercies are new every morning! His compassions fail not. "You are forgiving and good, O Lord, abounding in love to all who call to you." (Ps 86:5).
Excerpt taken from Micca's book, An Untroubled Heart: Finding a Faith Stronger Than All My Fears