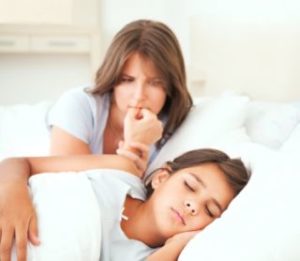 "Mom, a few kids are going skiing on the lake this weekend. Can I go?"
"Absolutely NOT!" I said strongly. My mind raced with terrifying images of all that could go wrong on the lake as if I were watching a horror movie. I could envision him falling out of the boat, hitting his head, and drowning in the murky water. It happens, you know. Every summer a handful of drownings occur on the lake. My kid wasn't going to be one of them. Period!
When it came to my child, putting my foot down to, well, everything, was a normal response for me. I was a fear-driven parent—terrified at what could happen to my child when he's not in my care. I believed if I could control the environment, I could keep him safe and secure under my watch. My obsessive worry was draining.
One day, I was talking with a pastor friend about my fears as a parent, and his wise response was life-altering for me.
"So, what you're saying Micca is that you're the giver of life?"
The truth of his words set me free that day. I was not the "giver of life." God is. Take a look at Psalms 139:16.
"Every day of my life was recorded in your book. Every moment was laid out before a single day had passed" (NLT)
God knows the number of our days and our children's. They've already been determined. I find great comfort in these Holy Spirit inspired words. I don't have to worry or hoover over my child because God has already decided the course and length his life and no one can change that. Consider God's words in Jeremiah 29:11.
"For I know the plans I have for you" declares the LORD, "plans to prosper you and not to harm you, plans to give you a hope and a future."
Dear friend, control is an illusion. The only real control we have comes from falling on our knees and entrusting our children to God. Suddenly, fear gives way to peace that passes understanding.
Otherwise, parenting out of fear can produce the very things you're trying to avoid.
The fear we have as parents is natural because our love for them is great. But being a hovering parent isn't good for you or your child. Always protecting your kid causes them to miss things in life that help them grow into a responsible adult. It could keep them from learning life lessons God wants to teach them. Worst of all, fear-driven parenting can break the trust between you and your child.
Life can be scary, but when we surrender our child to God and trust His Divine plan for his/her life, we are able to say with confidence, "I am not the giver of life. God is." It's at this point we really began to enjoy the blessing of parenting the beautiful being God has given us.
Action Step: Take a moment to release control and surrender your child to God Thank Him for holding the life of your child in His capable and loving hands.