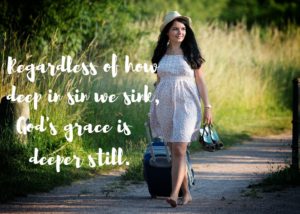 We all want our life to matter, to make a difference, and to count for something. Yet it seems our past can get in the way. This may be a concern for you, but it isn't for God.
Sally, the mother of Melany whom you read about in today's Proverbs 31 Ministries devotion, was called a saint because of her devotion to Jesus and her local church. Whenever there was a need, Sally appeared with a casserole in hand, a prayer in her heart, and a word of encouragement on her lips.
Things changed though when her daughter, Melany, became pregnant outside of marriage. Sally stopped ministering. She no longer felt qualified to serve Jesus and others because of her daughter's wrong choices.
Soon Sally became discouraged and depressed. Unable to contribute to her community, Sally lost her joy and passion for life. The woman who used to lend a helping hand to those in need, could no longer help herself.
One day, a dear friend came to visit Sally. She was curious as to why Sally stopped participating at church.
"Our family is marked by sin." Sally confessed with sadness and shame in her voice.
"How can I continue to serve God when I've failed Him?"
Many parents take on the sins of their children as if they're guilty too. We forget our children have a will all their own. What they choose to do with their lives is their choice, not ours.
Their sin isn't our sin.
When Sally's friend reassured her of this truth, the countenance on Sally's face changed. New hope emerged within her heart, and Sally began looking for ways to turn her past into a purpose.
Before long, Sally began donating her time to speaking at high schools about teen pregnancy while ministering to girls who had already found themselves in that condition. Sally not only found new purpose, but she regained her joy as well.
Like Sally, many see themselves outside the scope of God's grace because of their own sin or because of the sin of someone close. Perhaps that describes you today? The Bible encourages us,
"Where sin increased, grace increases all the more!" (Romans 5:20)
 Regardless of how deep in sin we've sunk, God's grace and forgiveness is deeper still.
When we allow God to redeem our past, He can transform it into a beautiful future. He can take the wastelands of our lives and turn them into springs of living water– just as He did for Melany.
God's words for you today are the same as those He spoke through Isaiah long ago.
"Forget the former things; do not dwell on the past. See, I am doing a new thing! Now it springs up; do you not perceive it? I am making a way in the desert and streams in the wasteland" (Isaiah 43:19).
God is not limited by your past, my friend. He is doing a new thing in your life right now!
Can you see it?
Do you believe it?
Oh, how He longs to use your story to help others know Him and His life-changing grace. Will you trust Him?
If you need prayer today over something in your past, or to trust God with your future, I'm happy to pray for you. Just write "pray for me" in the comment section and know that you've been lifted up today. May God's glorious grace shine on you today!