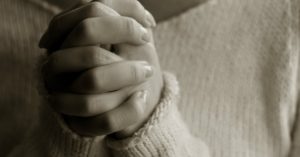 I love praying for my family as I walk in the park. One day, while pleading with God through tears on behalf of my family, God interjected a question for me.
"Will you cry and pray for my people?"
The best gift we can give to others is prayer. It's why we pray for those close to us. That's well and good, but God wants us to expand our prayer list to include others; our neighbors, our co-workers, our leaders, our community, and the Nations that they may know the one and true God. In fact, the New Testament commands to pray for one another for their benefit and ours.

We live in a world where trouble is all around us. Praying for others empowers them to see God in the midst of their trouble or prevent them from falling into sin. As for us, prayer increases our faith as we watch God work on behalf of our petitions.

I love that God invites us to join Him in blessing others. How can I pray for you?